Welcome to the Year 6 page of the website. We hope you enjoy reading about our learning.
Summer 2017 - Homework Task
I hope you are all having a wonderful summer and enjoying the time to spend with your friends and
family. Appreciate and treasure every moment, as you move into Year 6 you will soon realise how
fast time flies.
Your 'homework' for this summer is to complete at least three of the tasks below.
1) Bake a cake with an adult - don't forget to take a picture and write out the recipe.
2) Spend some time with a family member doing something you both enjoy - take a photograph
3) Log on to you Active Maths account and improve your Maths knowledge - I will be able to check this.
4) Read a book from start to finish - write an alternative ending, a book review or create a storyboard
5) Practise your arithmetic skills - you can use myminimaths website.
6) Do something for the community - use your imagination.
7) Start your research on our first topics of Canada, the Vikings or the Human Body.
8) Create a quiz about yourself using numbers - e.g. How old am I? 3x3+1
9) Attend the Robinwood open day on Saturday 2nd September 2017 - take lots of photos
10) Be artistic - draw, design, create - this could be musical, art, drama, creative writing.
See you back in school on Wednesday 6th September 2017. Enjoy the summer and stay safe.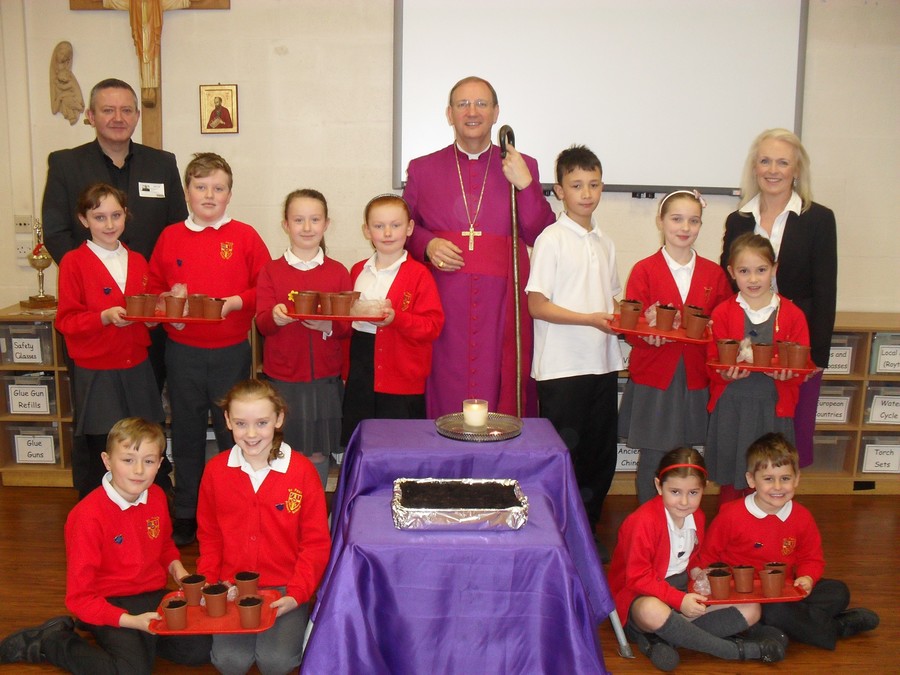 Our very important visitor - Bishop Mark, came to celebrate the growth at St. Paul's and tell us all about his role as the Bishop.
Friday 10th March 2017
This week we have had the privilege to meet a young man called Austin Riley. Originally from Canada, Austin has been touring various parts of the work with his dad, Jason, and his cousin, Shane. Austin came to our school as part of a tour around the UK promoting the awareness of Autism.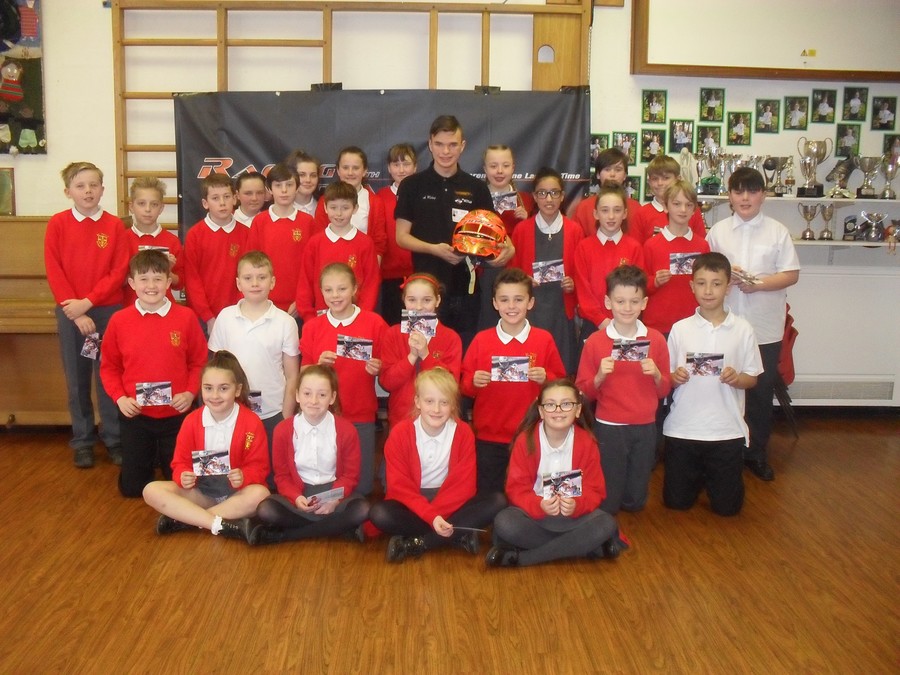 Friday 3rd March 2017
This week we celebrated World Book Day, dressing up as a range of book characters. Look at the pictures below to see who Year 6 dressed up as.
Whilst celebrating World Book Day, we also wrote our own stories about a magical cupboard in the classroom that could take you to another world.
Charlie started his story by writing:
Never in my life have I been so bored. I did everything I could to distract myself from the lesson - I played with my tray, I messed with my pencil, I looked out of the window. Still bored, I decided to go to the toilet. As I walked out of the door, not looking where I was going, I stupidly walked into a cupboard.
Dazed and confused, I woke up with an awesome feeling inside. I didn't know where I was but in class all I really wanted to do was sleep so I was in luck, I was in a land filled with beds, Yessssss, I thought to myself. I ran up to a bed and jumped on it, OUCH! The bed was as hard as rocks.
Friday 10th February 2017
Today we have raised over £280 from the Bake Sale towards new playground equipment. What a fantastic end to a fantastic half-term! The children in Year 6 have continued to work extremely hard on their learning, many children extending their learning outside school hours.
This morning, Year 6 also presented an assembly about the 'importance of water' to the rest of the school. We demonstrated where water comes from using the water cycle model/song https://www.youtube.com/watch?v=TWb4KlM2vts and explained that despite water being so vital to life, it is one of the most unevenly shared out resources of all. For example, in Britain, the average person uses 160 litres of clean water each day; in rural Ethiopia, people use an average of around 5-10 litres per day.
Year 6 used the time in assembly to share their messages about not wasting food and water, through poetry that they had written in groups. Here is one of the poems by Hannah, Ruby, Sarah and Faith.
But Why?
Why waste? What is the point?
We let them suffer.
But why?
We have a car,
They travel far,
But why?
We stuff our face,
While they're harvesting away,
But why?
Drip, drop the tap is on,
Within 8 seconds a child has gone,
But why?
Tick tock, there goes the clock,
One more strike and another has gone,
But why?
But why?
Friday 3rd February 2017
This week we have been to Manchester Science and Industry Museum. We took part in six workshops and enjoyed every one of them. Look at the photographs to see what a wonderful time we had.
Monday 7th November - Robinwood
Tuesday 8th November - Robinwood
Wednesday 9th November - Robinwood
Friday 21st October 2016
This week we have had visitors from the NSPCC and the Fire Brigade talking to us about staying safe.
Angie and Bernard, who came on behalf of the NSPCC, came to talk about the different types of abuse a child could suffer and who to talk to if there was ever a problem. They also taught us a way to remember the ChildLine phone number if anybody feels the need to talk - 0800 11 11.
Firefighters, Steve and Phil, from Chadderton Fire Station, came to talk to us about how to stay safe during the bonfire celebrations and what to do if there was ever a fire at home. They answered lots of our questions and let some of us try on their fire gear and breathing apparatus. Steve spoke about the importance of smoke alarms in the home and how these can help save lives. He also left a phone number for a free service offering installation of smoke alarms - 0800 555 815.
Friday 14th October 2016
We have been on a magical journey this week, using our senses combined with our imaginations to visit an old antique shop. In the antique shop there was a magic genie lamp, just like the one Mrs Hilditch had on her desk! We have used this idea to start writing a story. There were so many fantastic story openers, which one do you like best?
Without a sound, I entered the musty, old antique shop that stood on the cliff side. As I walked through the shop, I was hit by a stale, mouldy stench. In the corner of my eye I saw something glistening, I looked closer and gazed at the glowing lamp. It seemed to capture me, taking me to another world.
Never in my life, had I seen something as beautiful as that. There was quite a glow to it. Engraved on the handle was - take a closer look, but I couldn't look any closer, my nose was already touching the mysterious magical lamp.
In the distance, stood the old antique shop, crumbling into disrepair. I walked in and looked around, in one corner the elixir bubbled through a small pipe, potions on the shelves had names like Polyjuice and Flying Feeling. I walked down the next aisle and spotted something peculiar, something fascinating, a mysterious magic lamp.
Friday 7th October 2016
With the Viking topic coming to an end this week, Year 6 have been thinking about the sails they used. Were they right to use a square/rectangular sail. As a class, Year 6 created an experiment to test the shape. They tested a square, rectangular, circular and triangular sail. After they had tested regular shapes, everybody had the chance to design and make their own sail to see if it could travel any further. After the experiment, we looked at the 'Evaluation' and thought about other things that could be tested. Many children thought the size of the sail would make a difference.
Friday 30th September 2016
This week Year 6 have been focusing on the Viking topic, thinking about how they lived and what daily jobs the children their age had to do. The children made a list of the tasks both girls and boys were given and then wrote a diary entry as if they were one of those children. They all enjoyed getting into character. The children also learned about the different Kings and how they fought for the land. Did you know that Ethelred the Unready became a king at just 7 years old?
On Thursday, Year 6 took part in circuit training with Freddie Fit, they were very hot by the end of it. The Sports Captains also spent the rest of the day training with the other classes and gaining the skills they will need to be successful Sports Captains. The Sports Captains have now teamed up as partners and will organise games for the younger children during the lunch break and help out during sporting activities throughout the year.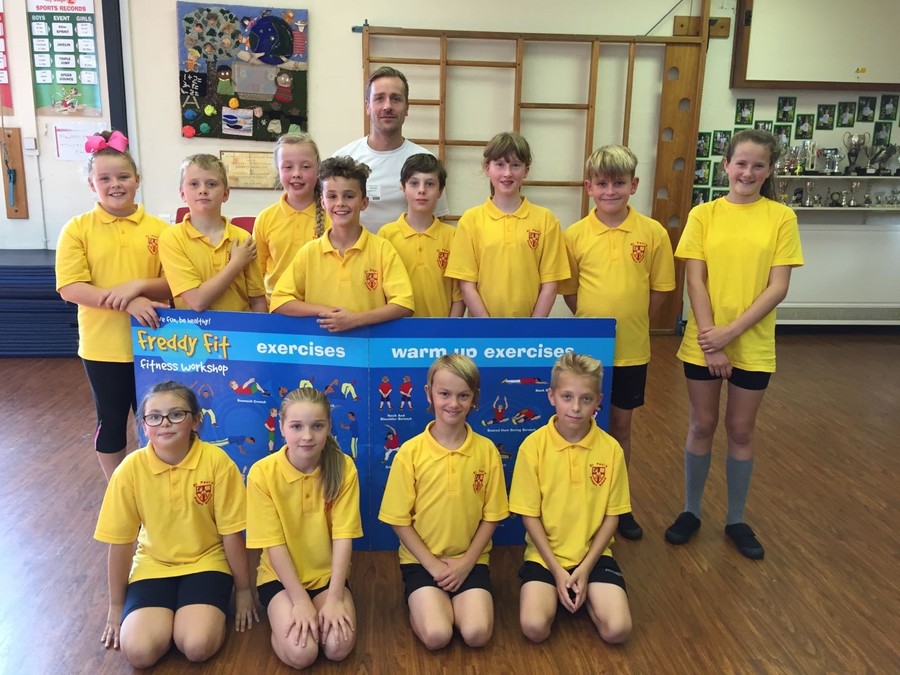 Friday 23rd September 2016
The children in Year 6 have had an exciting week creating some of the winning revolting recipe designs for the rest of the class to taste and review. On Wednesday, Ruby and Charlotte made 'Bird in the Oven' and Charlie and Jack made 'Salami Killer'. On Thursday, Will made 'Mountain Dew Jelly' and Ben and Robson made 'Spider Web'. On Friday, Helena, Pearl, Cayci and Hannah made 'Tooth Rot'. Look at the photographs below to see their end products.
Friday 16th September 2016
This week Year 6 have been busy writing letters to various supermarkets, trying to persuade them to sell the products the pupils designed last week. Helena had designed a 'Sweet Pizza', here is what she wrote to the supermarket......
Dear Sir/Madam,
I am writing to you to discuss my mouth-watering idea, Sweet Pizza. This perfect pizza will satisfy your customers' sweet tooth, offering a sweet cookie dough base with oozing melted marshmallows and chocolaty chocolate chips. This brand new product has been tried and tested by some pupils at St Paul's CE Primary School who loved it and commented on how tasty it was.
I feel that this product would be a best seller in your store so you must be sure to buy this fantastic new product. Pizza is already a popular food so with a sweet topping, it would be delicious. I hope you are ready for a stampede at your doors as I am sure your customers would go crazy for it.
I urge you to consider this option as you really don't want to miss out on this amazing product. I am positive it will boost your profits and most certainly your customers. With such delicious toppings, everyone will want a Sweet Pizza. Hopefully you can see how beneficial this new product will be for your company and I look forward to a successful partnership working with you.
Yours faithfully,
Helena Hall
Friday 9th September 2016
Year 6 have made a fantastic start to the Autumn term. This week the children have been working on presentation in their work books as well as getting started with some exciting new topics. For the next few weeks they will have a focus on the Vikings as their history topic as well as Roald Dahl's Revolting Recipes in their English lessons. The week began by reading and watching some of Roald Dahl's famous 'Revolting Rhymes', exploring the way he used his words creatively to capture the imagination of many children worldwide. The children then worked with a partner to create a new recipe, writing instructions using imperative verbs. Look at the pictures below of some of the children's ideas. Which one is your favourite?
Paws.b
The children in Year 6 have been taking part in a course called Paws.b. Paw.b is a series of lessons promoting mindfulness in children. The aim of these lessons is to teach the children mindfulness as a life skill so that the children can:
feel happier, calmer and more fulfilled


get on better with others

concentrate and learn better

cope with stress and anxiety
Throughout the lessons the children have been learning a variety of ways in which they can 'pause and be'. The link below is just one strategy.