We still have Nursery spaces available. Please enquire via the school office. We would love to give you a virtual tour!
Welcome to Nursery! Here we offer full and part time Nursery provision. In our class you will meet the following staff: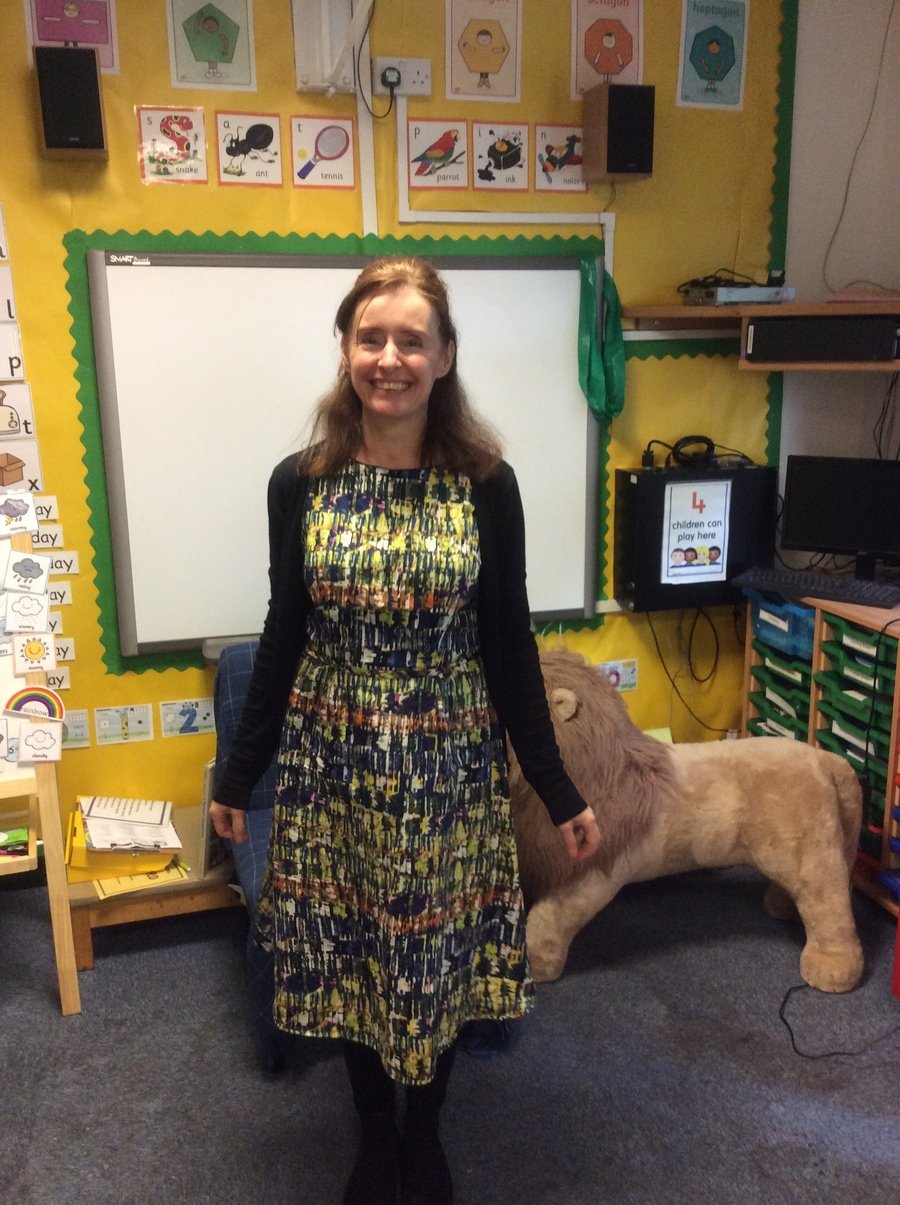 Miss Norwood- Nursery Teacher
Miss Chadderton- Nursery Teacher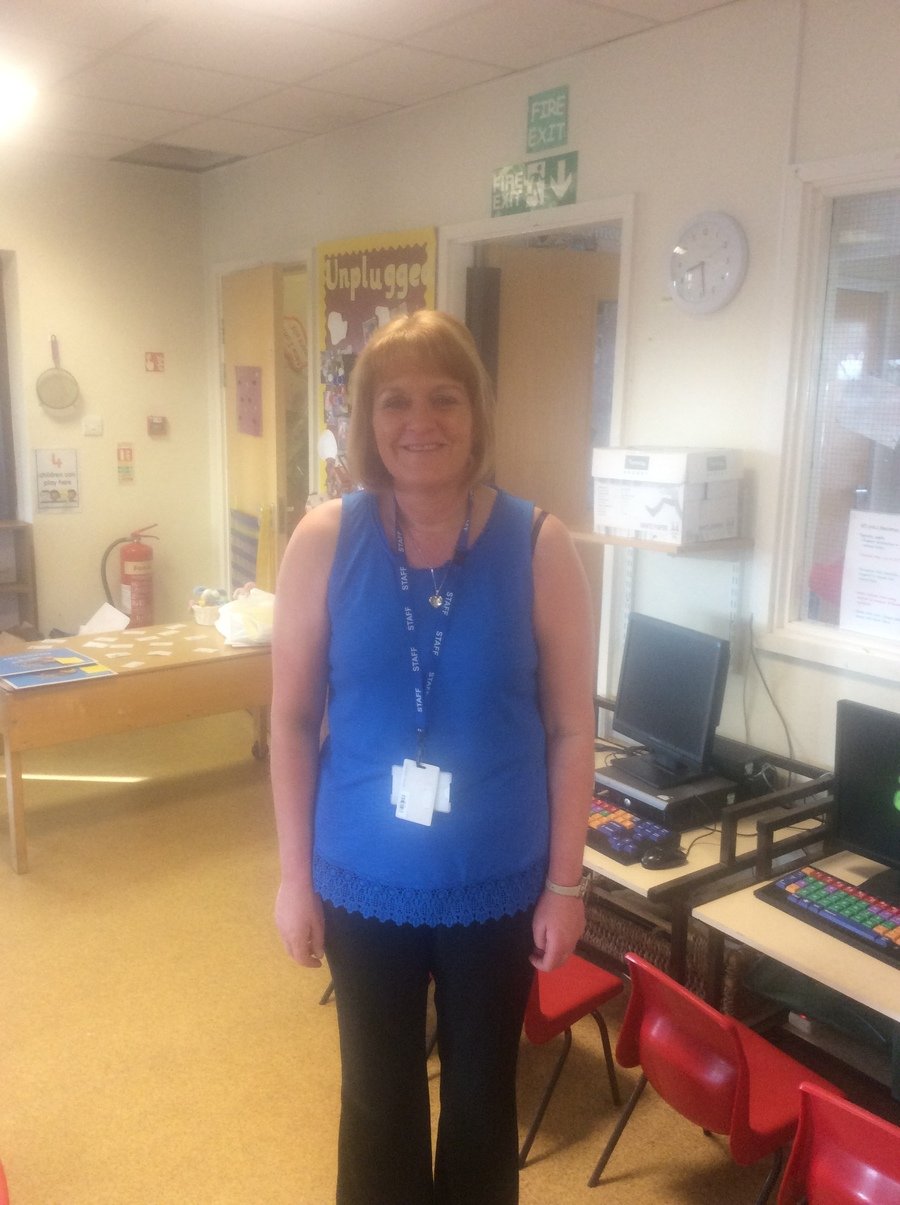 Mrs. Lutley- Learning Support Assistant
Spring 1 2021
Our topic this term is Traditional Tales.
We will be reading the following stories which we will use as a basis for cross-curricular teaching. We will also be learning about and celebrating Chinese New Year.
We will be developing children's speaking, listening and understanding skills.
We will be developing children's physical skills, including fine and gross motor skills.
We will be developing children's confidence, relationships with others, self-awareness and their ability to manage their feelings and behaviour.
In Maths, we will be developing children's skills of counting a number of objects with one-to-one correspondence; reciting numbers forwards and backwards; comparing two groups of objects and recognising when they are equal; using the language of size/length/weight; using the vocabulary 'more', 'greater', 'less', 'fewer', 'equal', 'the same'; matching quantities and numerals; beginning to recognise and form numerals; identifying and describing the properties of common 2D and 3D shapes.
We will be developing children's computing skills. We will be supporting children to be imaginative and creative, and to develop an appreciation and understanding of the world around them.
We will be developing children's religious awareness.
We teach phonics every day and make use of our wonderful 'forest school' outdoor area.
We follow the children's interests so please let us know if your child has any specific interests.
You can find further information on our Remote Learning page, with useful links, as well as on the Nursery's Class Dojo page. These are updated regularly. You can also find useful links at the bottom of this page.
Please do not hesitate to ask if you have any questions.
Welcome to our Early Years Tip Toe Nativity
Merry Christmas from EYFS
Autumn Term 1, 2020:
Nursery have settled into school really well over the past two weeks. Below are a few pictures of them exploring their indoor and outdoor classroom.
Our new topic this half term is: 'Ourselves'. We will keep you updated with home learning activities and newsletters via the 'Class Story' on our school learning platform 'Class Dojo'. We will also post these on the home learning section of this website.
We would love to see pictures of your child and the people they live with or anything special that you have been up to. You can send these to us via the portfolio section of Class Dojo.
We are really looking forward to getting to know our new families over the coming months. If you need to speak to a member of staff we are more than happy to help. Telephone appointments can be made via the school office or we can be contacted via Class Dojo. We will also be present at the beginning and end of each session for quick informal discussions.
We look forward to getting to know you all!
Our timetable is very flexible, we work around the needs of our children. Above is a basic guide to our daily activities:
This half term, we are learning and exploring ...
All About Me
We will be reading...
This half term, our topic is All About Me. We will be learning about our families, our bodies, where we live, similarities and differences between ourselves and our friends and what we like and dislike.
We will also be finding out about Harvest Festival and the Hindu festival of Diwali.
Spring Term 2:
This half term the children have been learning a variety of different Traditional Tales. We have also discussed a range of celebrations including Shrove Tuesday/Pancake Day, Ash Wednesday, St David's Day and Mothering Sunday. The children have made and written cards. We also made some tasty pancakes.
As the weather has started to brighten up and Spring is upon us we have started to discuss growth and new life. We introduced the children to key words linked to life cycles and growth.This will also link into our work around Easter. The children have planted their own seedlings, which were kindly donated to the school by the 'Grow It Yourself' project and 'Innocent' smoothie company. We have been trying to do more outside as the weather continues to improve. We made some transient art pictures, inspired by Andrew Goldsworthy.
As part of our scientific learning this half term, we have had Science Week. The children took part in a range of activities before and after school with their parents.
Have a look at our pictures below.
Spring Term 1..
Our topic this half term is Space, however we will also be discussing Winter and other seasonal events that occur at this time of year, such as Chinese New Year.
In the first week, the children read the story 'Stick Man' to help them to think about the changes that take place in the Winter. They placed Stick people in the family tree and made the stick family out of play dough. They re-enacted the story using puppets and discussed the seasonal changes that happen in the Winter Time.
In the second week we read the story 'Goodnight Spaceman' and discussed the equipment that a Spaceman might need to go into Space. The children drew and labelled their own Astronauts. The children also made Space pictures using black paper, white and silver poster paints. They added glitter to make a Milky way.
In the third week we read the story 'Clever Sticks' in the lead up to Chinese New Year. The children thought about the things they are good at and who they can ask when they find something tricky. We tasted some Chinese foods such as prawn crackers and spring rolls. The children watched some traditional dragon dancing and had a go at doing a little themselves.
We have also been thinking about how to keep ourselves fit and healthy this half term. Freddie Fit has been into school to do some exercise with all the classes. We loved joining in with the older children and copying their moves.
What a busy and exciting half term it has been! The Foundation Stage children have settled in brilliantly to their new classes. They have made lots of new friends, learnt to use their new classrooms appropriately and share the resources.
We have learnt about how we are similar and different to our friends in the way we look and who we live with. We have explored how our bodies work and discussed healthy choices.
We have also looked at seasonal changes and the days/nights becoming darker, as part of this we discussed nocturnal creatures and had a visit from some owls! Below are a few highlights from our first half term in school.
Our children learn through a mixture of exciting, play based opportunities indoors and outside. Our topic this half term is Ourselves. As part of this topic we will ask your child about things they enjoy doing, people who are special to them and also any pets they may have. We will discuss the similarities and differences between members of our class, in both our physical appearance and personal preferences.
We will send home weekly learning opportunities in our 'Home Learning Books'. We may also sometimes post activities on Class Dojo. Please feel free to use Class Dojo to upload pictures of your child's home learning, but also of special places that you may have visited and people they have enjoyed spending time with.
Please feel free to approach any member of our Nursery team if you have any questions. We look forward to working with you throughout this important stage.
Our learning in Nursery so far:
July 2019:
Friday 12th July 2019 St Paul's Nursery, Barnardo's Big Toddle.
On Friday of this week, Nursery took part in the Barnardo's Big Toddle. We did this to raise money for children who are less fortunate. During the sessions leading up to the 'Toddle' Nursery were encouraged to discuss things they are grateful for. We then began to talk about how they might feel if these things weren't there anymore. The children decided that they would feel sad and that they wanted to ensure that others didn't feel this way. We also discussed about the physical benefits of walking around the park.
While in the park the children discussed the signs of Summer that they could see. They named flowers and we talked about the seasons. This really was a cross-curricular charity event.
We finished our 'Toddle' with a Teddy Bears picnic in the park and the story of the Everywhere Bear by Julia Donaldson. We read this to the children as we had been discussing landmarks that they have visited in previous sessions throughout the year, such as Royton Library on our way to the park.
Many members of the public stopped us and made donations on our way to and from the park, to whom we are very grateful. We are proud of our community, especially our helpers and lovely parents many of whom joined us to make our walk on Friday possible. A huge heartfelt thankyou to all who helped!
May 2019
As part of our topic, Living Things, Nursery had a special delivery of ten eggs in an incubator. Today (day 3), three of the eggs hatched! The children watched the chicks closely as they changed. They became more fluffy and began to stand up. We hope that more of the eggs will hatch tomorrow. Next week, when the chicks are stronger, the children will be able to carefully handle them
April 2019 (Summer 1)
Welcome back to the Summer term. Our topic this half term is Growing and Living Things.
We will be learning about the life cycles of plants and animals. We will be planting seeds and, hopefully, watching them grow! Our Home Corner is now a Garden Centre. We will be observing living things in our environment, and reading a range of fiction and non-fiction texts such as From Seed to Sunflower, From Egg to Chick, From Egg to Bee, The Very Hungry Caterpillar, Aaaarrrggghh Spider and Titch. We will find out about healthy eating and be creating representations of plants and animals using a variety of media and materials.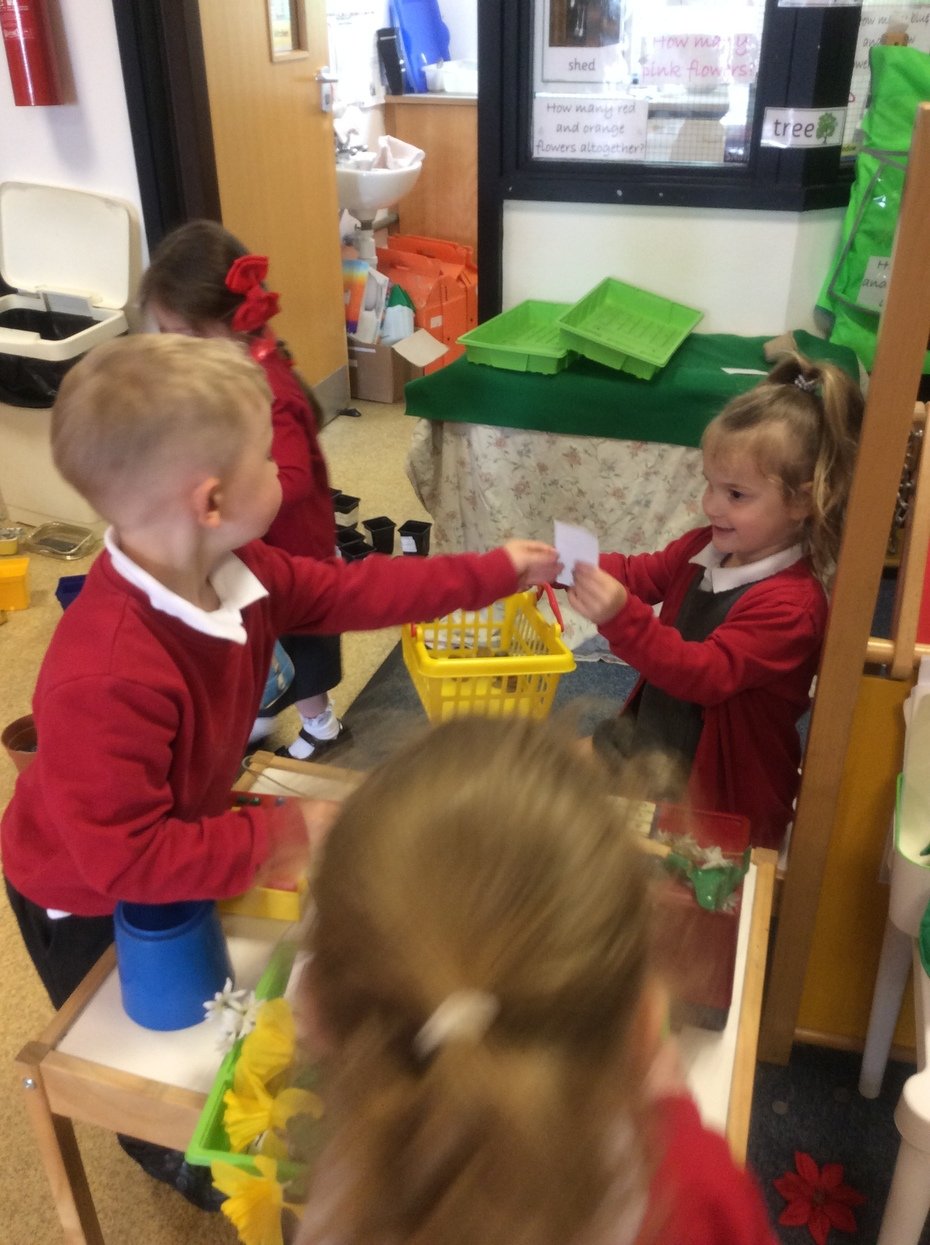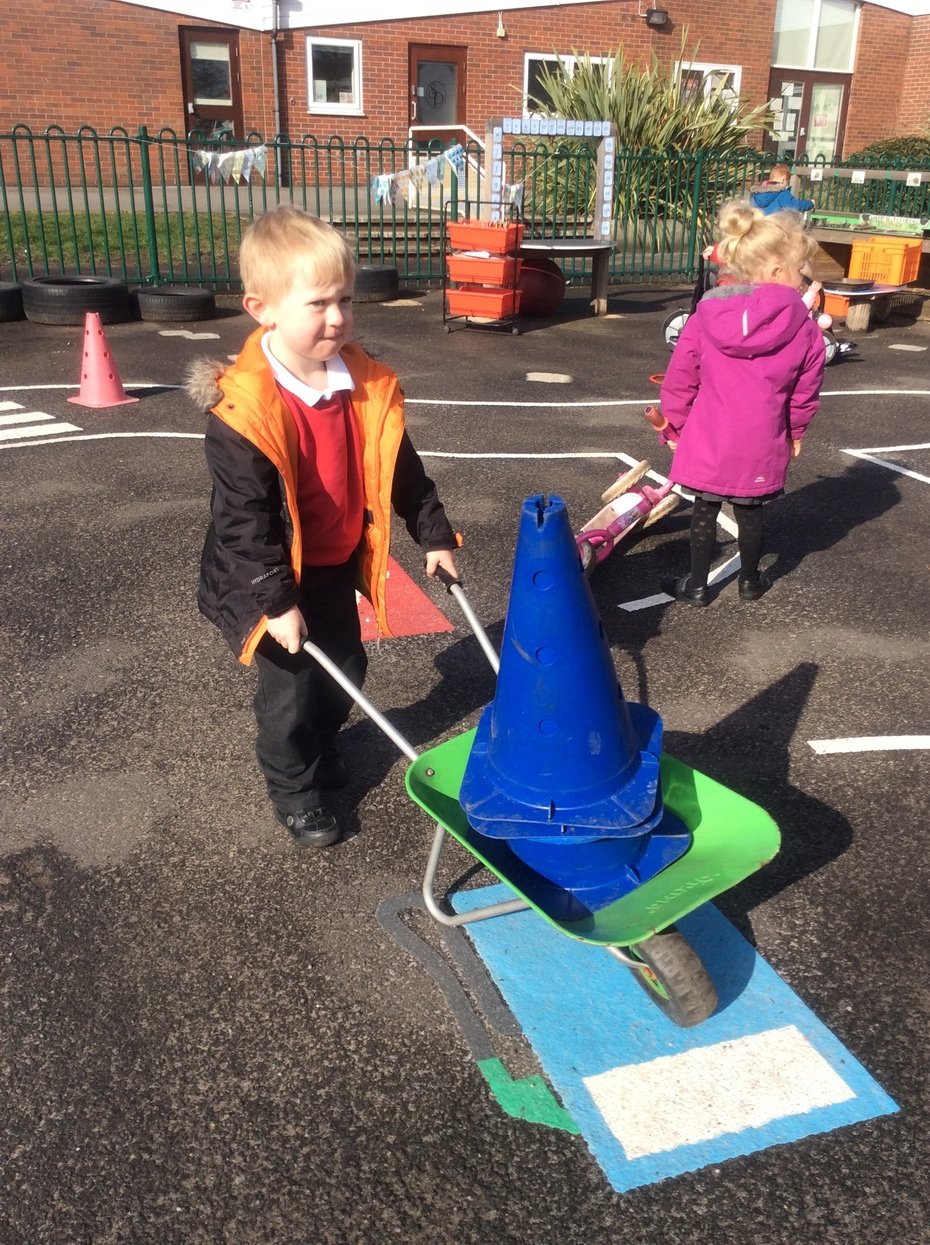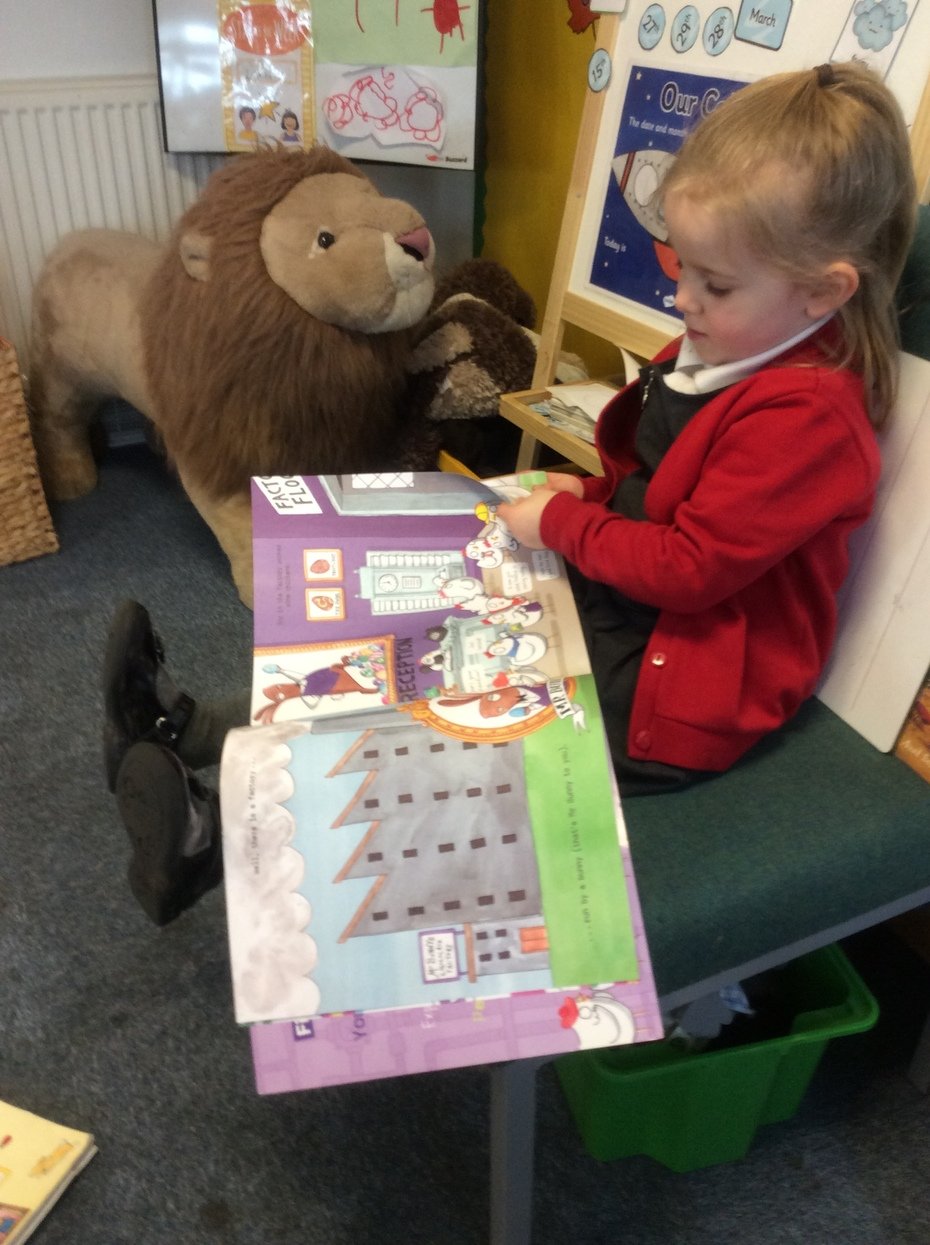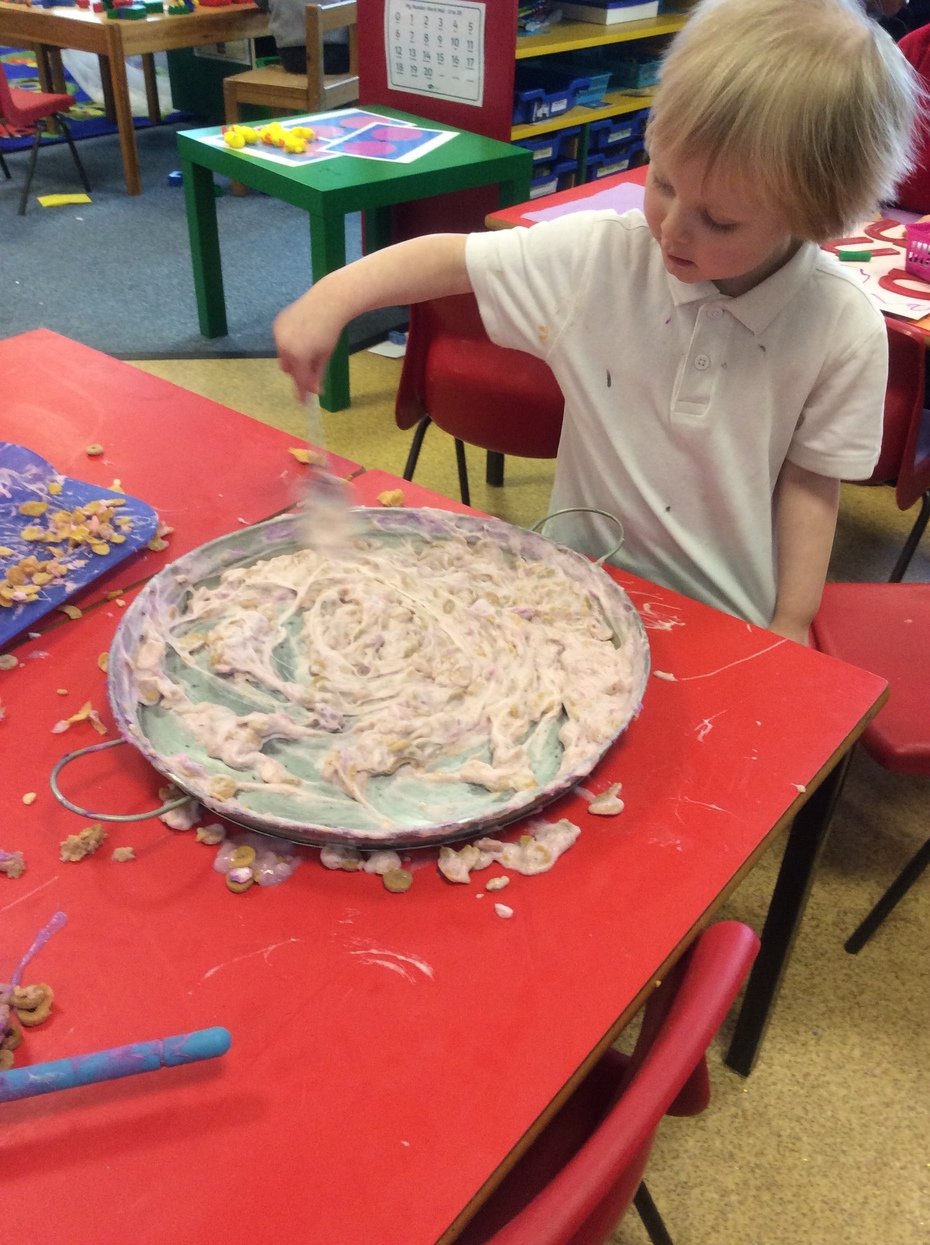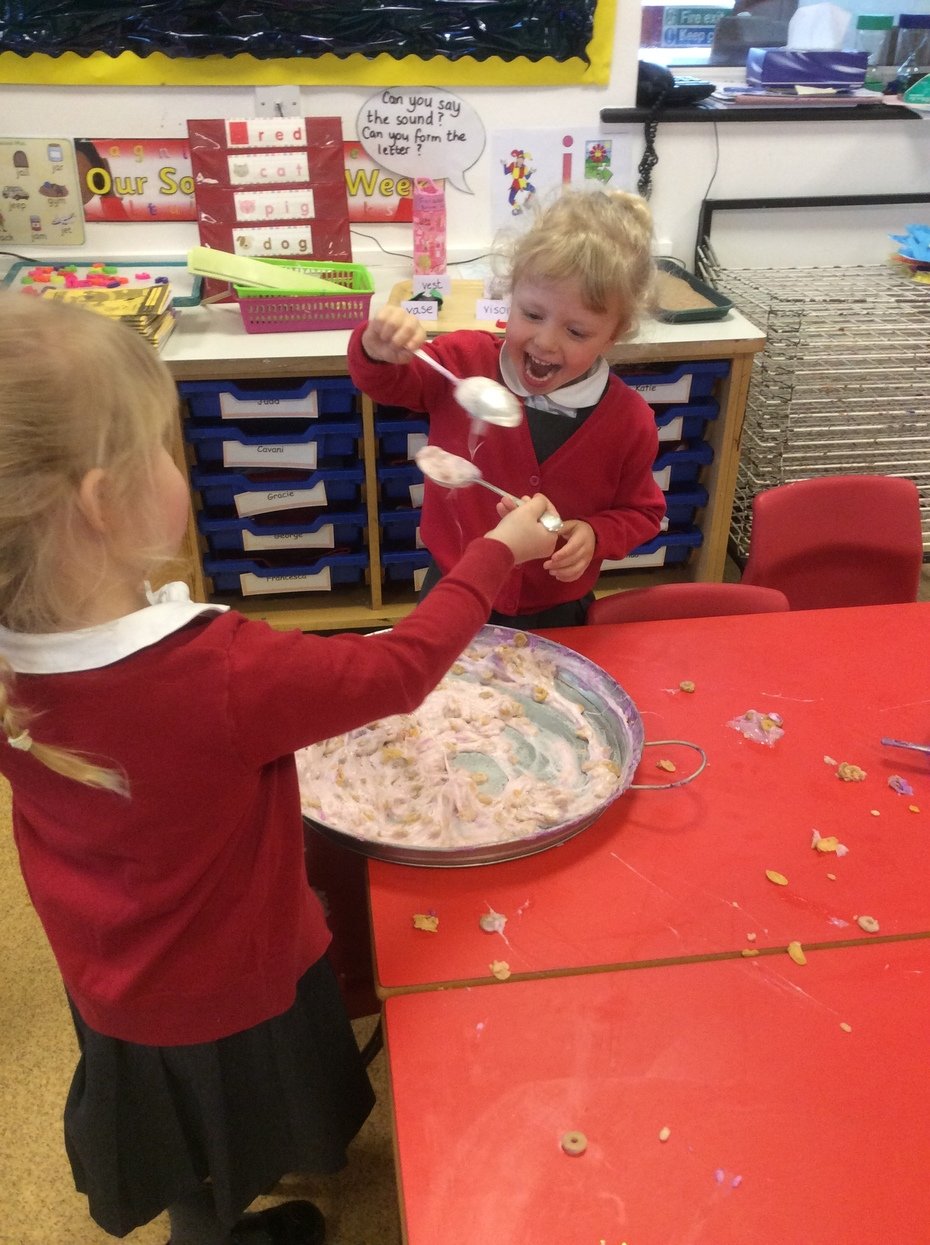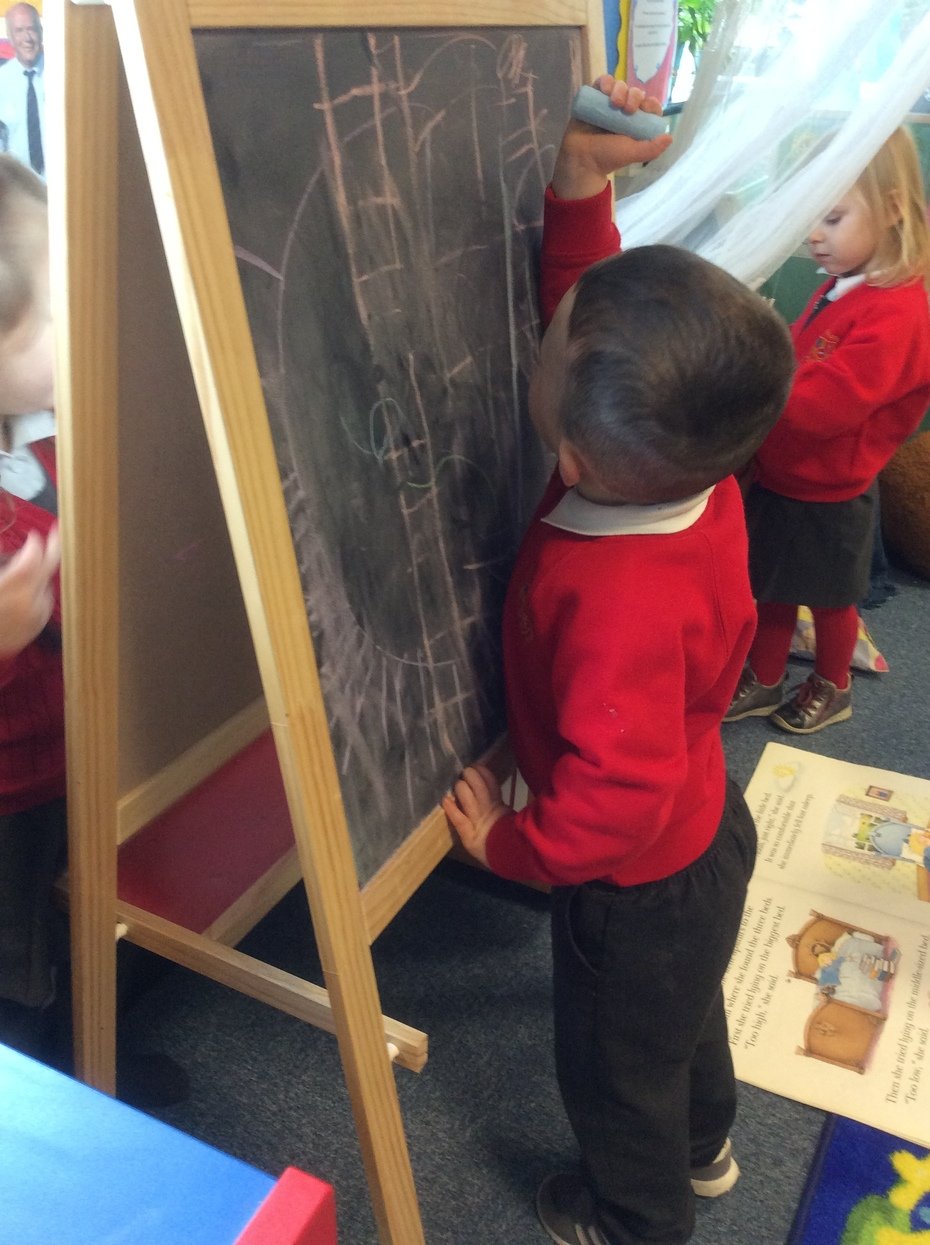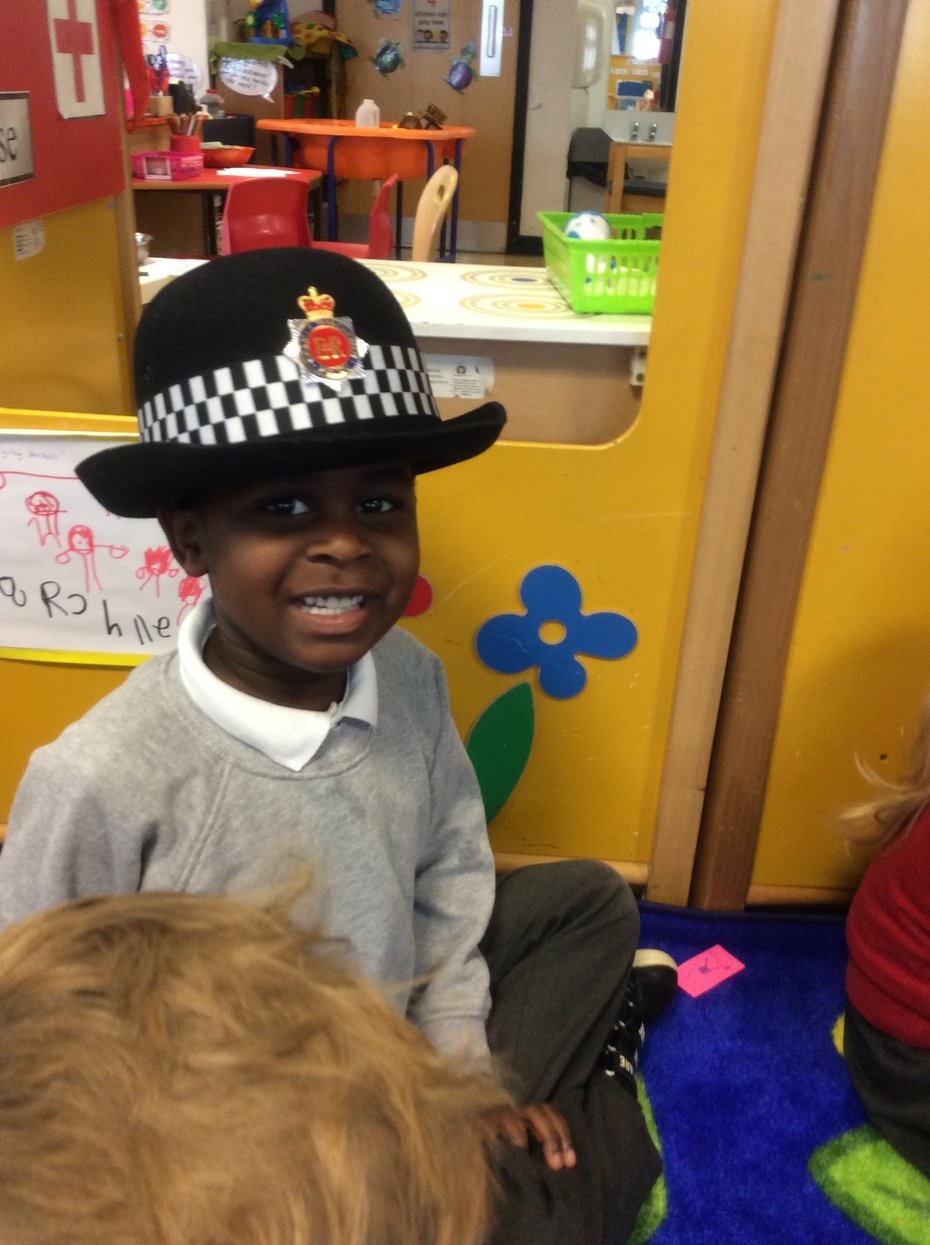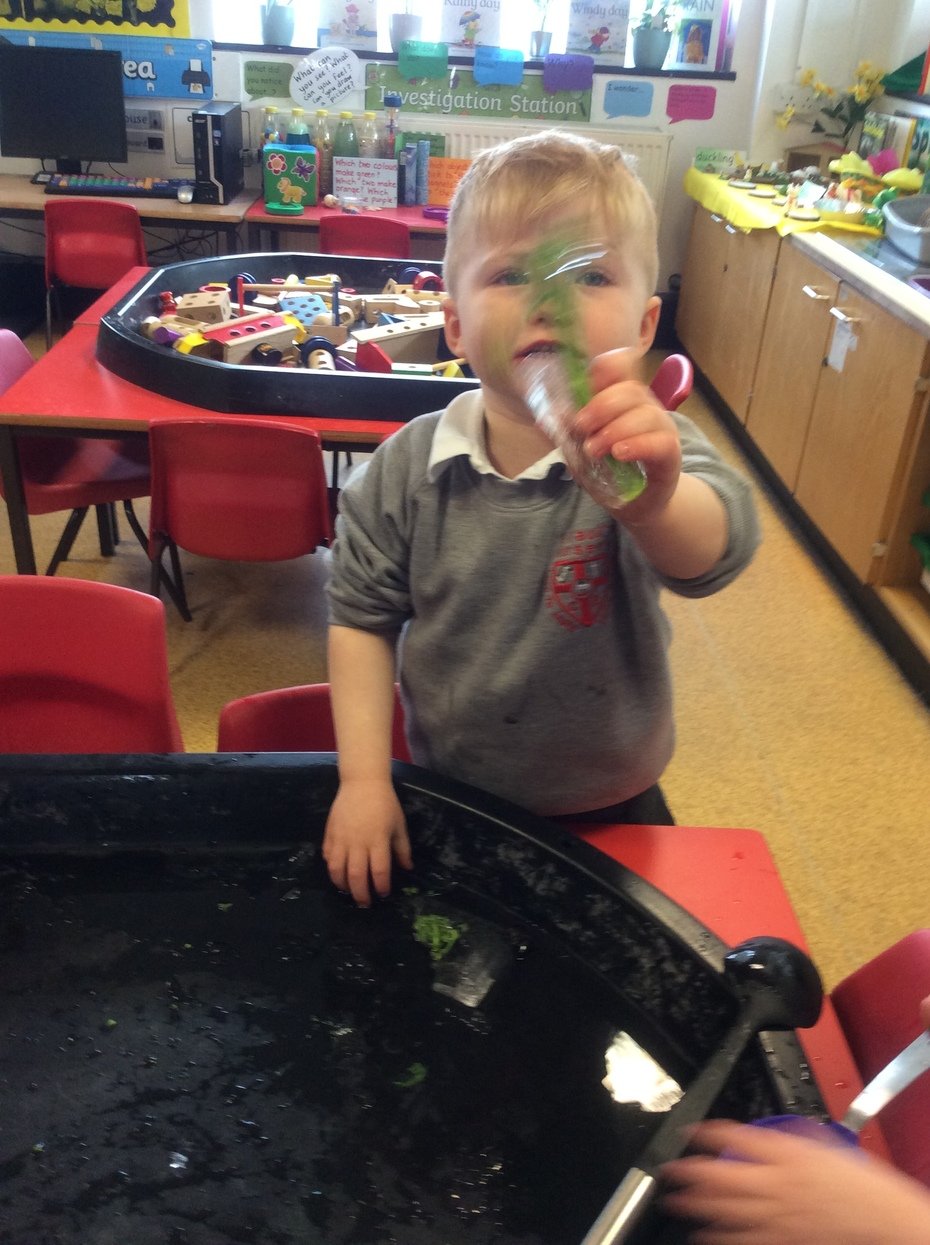 February 2019 (Spring 2)
Our topic this half term is People Who Help Us.
We will be learning about various 'people who help us' such as police officers, nurses, doctors, dentists and fire fighters.
We will be reading a range of fiction and non-fiction texts, including:
Zog and the Flying Doctors, Supertato, Super Worm, Open Wide and Fix It Duck.
Nursery will be visited by different 'people who help us'.
This half term we will also be making and eating pancakes, and learning about Easter.
During Science Week (18th-22nd March), we will be making predictions and observations as we carry out investigations just like real scientists!
We are also looking forward to World Book Day on 7th March, and Comic Relief Red Nose Day on 15th March.
January 2019
Happy New Year!
This half term our topic is Traditional Tales. We will be reading Goldilocks and the Three Bears, Jack and the Beanstalk and Little Red Riding Hood, along with other traditional tales. We will be re-telling the stories, talking about the settings and taking on the roles of the different characters. We will be making and eating porridge.
We will continue to practise writing our names and representing the initial sounds in words.
We will be blending and segmenting the phonemes in simple words such as 'cat'. We will be learning to recognise these key words: the, me, we, he, she, be, I, go, to, and, my, was.
We will continue to practise counting forwards and backwards to at least 20, and begin to represent numbers. We will be learning to find 'one more' and 'one less' than numbers to at least ten.
We will be finding out about Chinese New Year.
We will be having lots of fun!
November 2018
This half term our topic is Celebrations.
We will be learning about some of the special times we share with our families and friends, such as birthdays, weddings and Christmas. Last week we found out about the Hindu celebration of Diwali and made our own Diva lamps from clay.
We will be reading the books: Kipper's Birthday by Mick Inkpen, The Scarecrow's Wedding by Julia Donaldson and Dear Santa by Rod Campbell.
8.10.18.
In Nursery, we have been continuing to explore all of the different areas of our indoor and outdoor environment. We have been trying to have the confidence to explore new activities.
This week, we will be reading the story 'Peace at Last.' We will be acting out and re-telling the story.
We will be collecting Autumn leaves and counting them and continuing to think about Autumn and Harvest time.
The topics for this year are:
Autumn 1: All About Me
Autumn 2: Celebrations
Spring 1: Traditional Tales
Spring 2: People Who Help Us
Summer 1: Living Things
Summer 2: Journeys
In Nursery, children follow a play-based approach to learning through a variety of practical child-initiated and adult-led activities. We follow the EYFS (Early Years Foundation Stage) Curriculum. It is important that the children attain skills and knowledge in each area of the area curriculum in order to ensure continued progress throughout the following year. We want to work in partnership with you and greatly value any additional support you can provide in helping your child to achieve these objectives and ensure they are ready for the next years of learning. Children in the Early Years learn more effectively if they have developed high levels of independence, concentration and self-help skills.
Expectations for the end of Nursery:
Mathematics
Recognise numbers 0-10
Count reliably to at least 10
Count actions or objects that cannot be moved (to at least 10)
Count out up to 10 objects from a larger group
Use language such as 'more' or 'fewer'
Find one more or one less from a group of up to 10
objects
Begin to represent numbers
Begin to use the language of addition and subtraction
Begin to solve problems based on own interests
Begin to find the total number of items in a set by
counting all of them
To name and describe 2D and 3D shapes, and begin to talk about the
properties of shape
Use positional language e.g behind, in front, next
to, between, above
Use objects and common shapes to create and
recreate patterns
Reading
Choose to look at books and enjoys stories
Know that information can be retreived
from books and computers
Link sounds (phonemes) to letters
Hear and say initial, middle and end sounds (phonemes) in words
Can continue a ryhming string e.g. cat,
mat, sat, bat
Say each of the sounds (phonemes) in a short word
Use a wide vocabulary influenced by an
experience of books
Predict what will happen next in a story
Talk about the characters, setting and events
Describe favourite part of the story
Re-tell a story

Writing
Hold a pencil with the correct grip
Give meaning to the marks, shapes, letters
and pictures they make
To write their first and second name
Know that the sounds in a word can be
written down and that the letters used
make up a word said
Begin to form letters correctly and use in
emergent/independent writing
Begin to use letters to represent words
Begin to write labels and captions