1. Artistic Portraits- paint and draw like Picasso
Ever wanted to draw and paint like Picasso?
Have a go at trying to draw and colour a portrait like Picasso
Follow this link which shows you step by step
https://www.youtube.com/watch?v=OmN64i55Aw8
or
2. Build a Bug hotel
Would you like to help mini-beasts and provide them with a safe home such as wood lice, ladybirds, bees and many more?
There are many suggested ways of building bug hotels but this following idea is simple using products you may have at home, in the garden(if you have one) or find twigs when you go on your daily exercise.
You could use a plastic bottle cutting off the top and bottom so it is an open cylinder (maths 3D shapes link here)
1) Cut your bottle down to shape - you may need help with this and be careful because the edges may be sharp.
2) Collect some small twigs, pieces of bark, small pine cones and other natural woody materials.
.
3) If you plan to hang your bug hotel, loop some garden twine round and then start layering your bug hotel. You can make one hotel for on the ground and one for hanging from a tree to see if will attract different creatures.
4) Stuff it tightly to make it nice and firm, so it doesn't get blown about!
Send me some photos when you start seeing any evidence of bugs living in your hotel.
3. Create a Rainbow on a plate
Try to create a rainbow on a plate made out of different colourful foods.
How healthy can you make it?
You could draw pictures of the food or print out pictures or cut out from magazines.
eg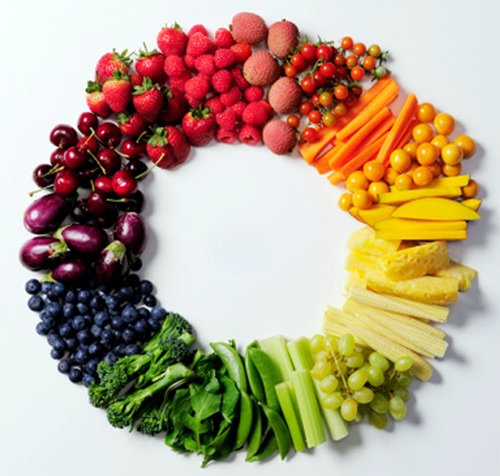 Try creating a rainbow on a plate using skittles: Arrange your skittles and just add hot water into the centre of the plate and see what happens.
4. An alphabet of fun things to do at home.
Can you create your own alphabet of fun things to do? These are some of the St Paul's staff's ideas:
A - apple bobbing,
B - bubble blowing, baking, bicycle ride/bird feeder, backgammon
C - card games, craft, cooking, collage, calligraphy,crocheting, chess
D - Design a rainbow, dance, dusting,den building, dress up as a favourite book character, draughts,
E - exercise, egg painting
F - Fitness, film day
G - games, gardening, play Guess Who,
H - hoovering, hum a tune (guess the tune game)
I - ice-lolly/ice-cream making,information finding (learn something new)
J - Jigsaw , junk-modelling, jelly making, Jenga
K - karaoke, kite flying, knitting
L - lava lamp making, lego challenge, letter writing, lemonade making, Ludo
M - marble run, music night, make a mask
N - noughts and crosses
O - orienteering round the garden, origami
P - painting, pottery , playdough
Q - quiz time quesadillas,
R - reading, research, running
S - sewing, scavenger hunt, sing, slime making, Scrabble, Scategories
T - treasure hunt, threading, tidy out a cupboard, Trivial Pursuit
U - upload photos, unload the washing machine/dishwasher,
V - video call,
W - window art , watch a box set
X - xylography(art of carving shapes in something for printing), make a xylophone using different containers
Y - yo-yo, yoga, make yogurt
Z - do a virtual tour of a zoo, pin the tail on a zebra, ZZZZZZZZZZZZZZ,
5, What can you do with empty egg boxes?
There are a whole range of 'egg'citing creative activities you can do with egg boxes,
Here are a few things you could try:
a) Egg-box ball game craft
A fun game for one to four players where you have to bounce a ball into the holes and tot up the scores
b
)Egg-box cress heads craft - make gg box twins and sow seeds
Try sewing cress or mustard seed and then 'cutting the hair' of the twins to make egg and cress sandwiches,
c) Egg-box pirate's treasure chest craft
Ahoy there! This bejewelled treasure chest
d) Make a spotty dog mask
Try this series of Maths investigations using egg boxes:Levels 1 - 5
https://www.transum.org/Maths/Investigation/Egg_Boxes/Default.asp?Level=1
https://www.transum.org/Maths/Investigation/Egg_Boxes/Default.asp?Level=2
https://www.transum.org/Maths/Investigation/Egg_Boxes/Default.asp?Level=3
https://www.transum.org/Maths/Investigation/Egg_Boxes/Default.asp?Level=4
https://www.transum.org/Maths/Investigation/Egg_Boxes/Default.asp?Level=5
I hope you have 'egg'cellent fun!
6. Comfort box
During week one of the school closure I included this activity on the parentmail letter for families to do together. The idea is to discuss the 7 different sensory items that would best support anxiety and worries and bring relief and calm.
All you need is a box, like a shoe box that can be decorated or covered with favourite pictures or designs and then find things that meet each of the criteria.
Enjoy finding comfort!
7. VE Celebrations
What is VE Day?
https://www.goodtoknow.co.uk/family/ve-day-celebrations-in-lockdown-540015
Create your own bunting for VE Day
https://www.bbc.co.uk/programmes/articles/4TrqYDyf4PMdLypxzyTwGDg/great-british-bunting
Make your own Victoria Sponge Cake to eat at your tea party
https://www.goodtoknow.co.uk/recipes/victoria-sponge
Try this menu and eat like they would in 1944
9. Try this fabulous link to learning some great new songs.
There are loads of songs that can be learnt ( some of them are for older children ) the age-groups they are suitable for are also mentioned. This week's recommendation by the Sing Up organisation is Baby Beluga.
My wish is for the children to use the song 'Believe'. Play the performance track and bring up the lyrics too. This is song we do in school a lot.