Sports News
Please click on the different sports on the left to read reports, find out results and see photographs.
INSPIRATION
How many children can we inspire to take part in sport?
Will you follow in the footsteps of some of our ex-pupils?
Ryan Kent - playing for Liverpool Football Club.
Ryan played for England Under 18's against Hungary in October. He played in the two international matches, scoring the winner in the first match which finished 2-1 and scoring 2 in the second match which finished 4-0.
Click to see highlights of the 4-0 win: http://youtu.be/14xKbeb1pxQ
Jack Hutchins - playing for Peterborough United Football Club
Amelia Hall - captain and player of the tournament in Oldham Netball Club's 'Under 14 National Clubs' winning team.
Amelia also plays for Manchester Thunder NPL and England Under 19 Academy Squad.
Amy Clinton - player of the tournament in Oldham Netball Club's 'Under 16 National Clubs' winning team.
Amy also plays for Manchester Thunder in the Netball Superleague and England Under 21. She has also received a call up to the full international squad.
Christopher Brown - runs for Trafford Athletics Club.
He has represented the Greater Manchester County Teams in cross country and track in the English Schools Championships and at club level.
He has represented the North West region in the London Mini Marathon and won the Great North Junior run in 2009.
If you know anyone else who could feature in the 'ex-pupils hall of fame', please email relevant information and a picture to: info@stpauls.oldham.sch.uk
Current Pupil's Sporting Achievements.
Luke Founde (Year 5) swims for 2 teams and trains 6 times a week. He has won 26 medals since January 2016, most of which have been gold. He qualified for the Lancashire County Championships where he swam against 45 swimmers in the 10-11 category (he is aged 10). He knocked 2 seconds of his personal best and is now ranked as number 36 in the county.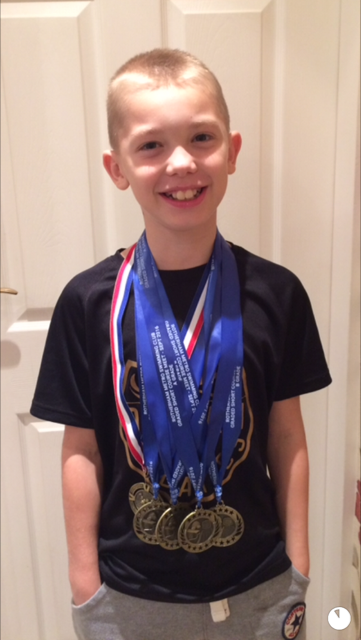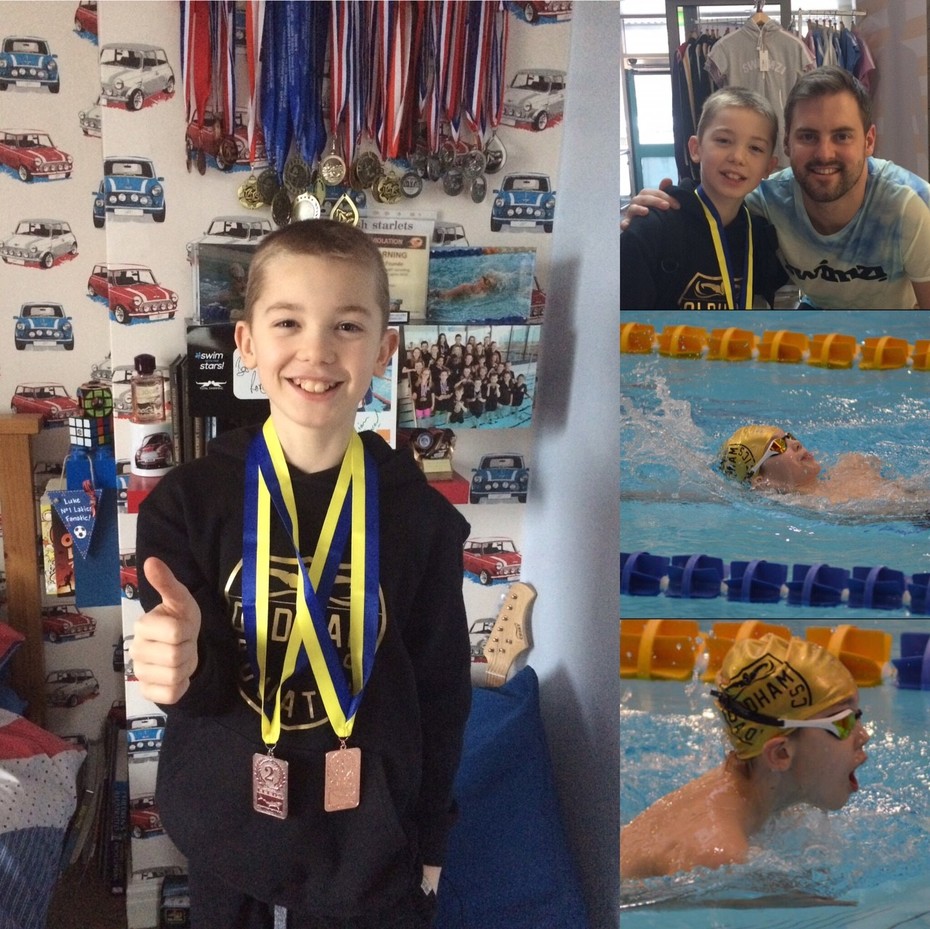 Cayci Mooney in Year 6 competes for Eclipse Acro Gymnastics Club. Here she is winning a gold medal in a recent gymnastics competition:
Sport Premium
Primary schools have received Sport Premium funding from the Government to raise standards and the profile of PE and school sport.
At St. Paul's, we received a grant of £5250 which we have spent as follows:
investment in specialist teaching

investment in professional learning for teachers

investment in resources to increase participation

investment in development of children's wellbeing - mindfulness, healthy eating and meditation
We have employed Miss Martland as a specialist Gymnastics teacher to demonstrate outstanding teaching. The teachers' are learning from Miss Martland and developing their own practice. The children are receiving high quality gymnastics coaching and are showing excellent progress in this area. Miss Martland runs after school coaching for different year groups and in different sports, to increase levels of participation and promote a healthy lifestyle to all ages throughout school.
In the future, we plan to spend further on training for teachers and on resources. We are aiming to improve playground markings to develop active playtimes, purchase improved equipment to support PE lessons and further develop levels of participation in inter school competition.