St. Paul's C E Primary School is Offering.
From September 2019.
Nursery Applications now being taken for September 2019
Please contact the school office on 0161 624 9019
Nursery's New Additions
As part of their topic, Living Things, Nursery have had some special visitors to their class. They have had ten eggs in an incubator since Monday. Today three of the eggs hatched! They have been enjoying watching them as they change and grow. Next week, when the chicks are bigger and stronger, the children will be able to carefully handle them.
Easter
Reception and Key Stage 1 took part in our annual Phonics Easter Egg hunt and made Easter nests together.
Operation Encompass - Please access information in the mental Health and wellbeing folder
World Book Day 7th March 2019
Today the children enjoyed a range of activities linked to books. To finish the day, the children chose which type of story they would like to listen to and took part in a story telling session led by staff from across the school.
Macbeth
KS2 took part in a Shakespeare Day - 'A play in a day'. Each class had a workshop held by Splat workshop for their Act. They also practised their lines and created props to use in the play. It was incredible to see the childrens' confidence increase as they performed the play to some parents at the end of the day. A great experience.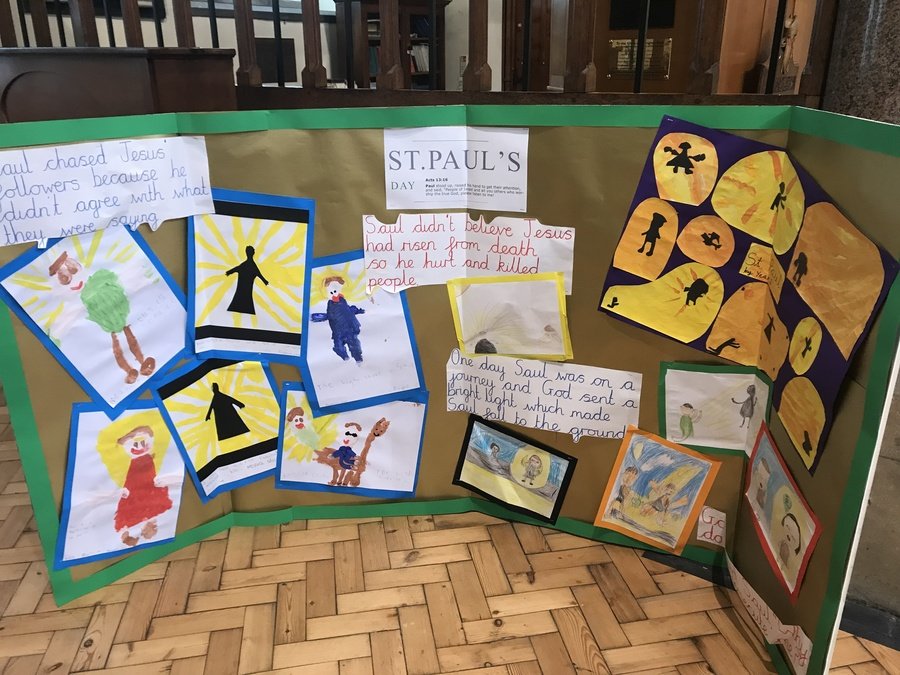 24.1.19 The whole school celebrated Mass in St. Paul's Church this afternoon in celebration of our patron Saint St. Paul 's conversion. Communion was shared and all the children received a blessing. Those who were already confirmed were able to receive the sacrament.
Confirmation classes begin next week where children and any of our school community can have the opportunity to attend prior to a special service later in the year. Please contact Mrs Green for further details.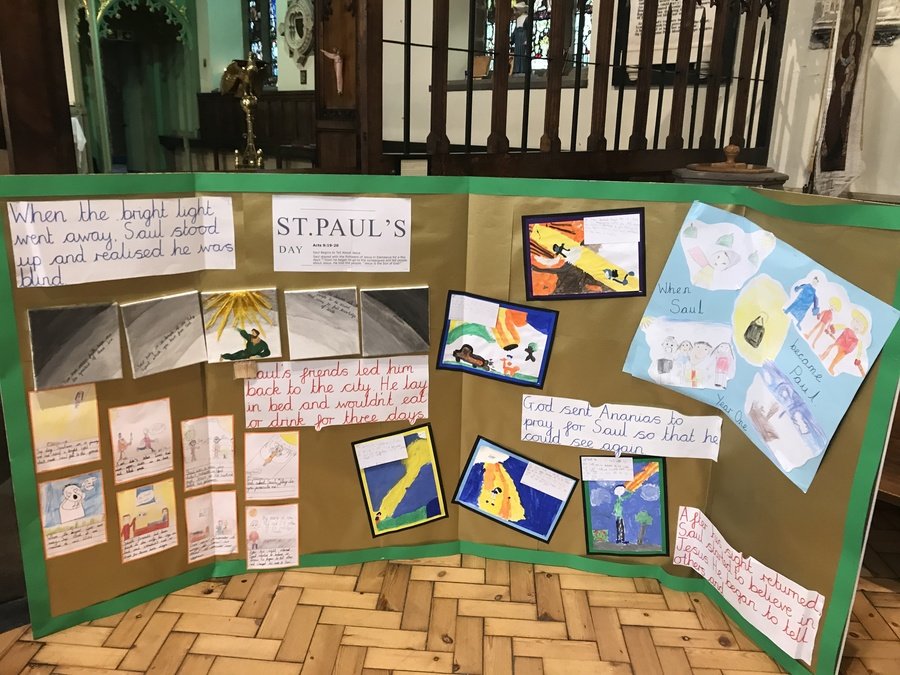 St Paul's Christingle Service collecting money for the Children's Society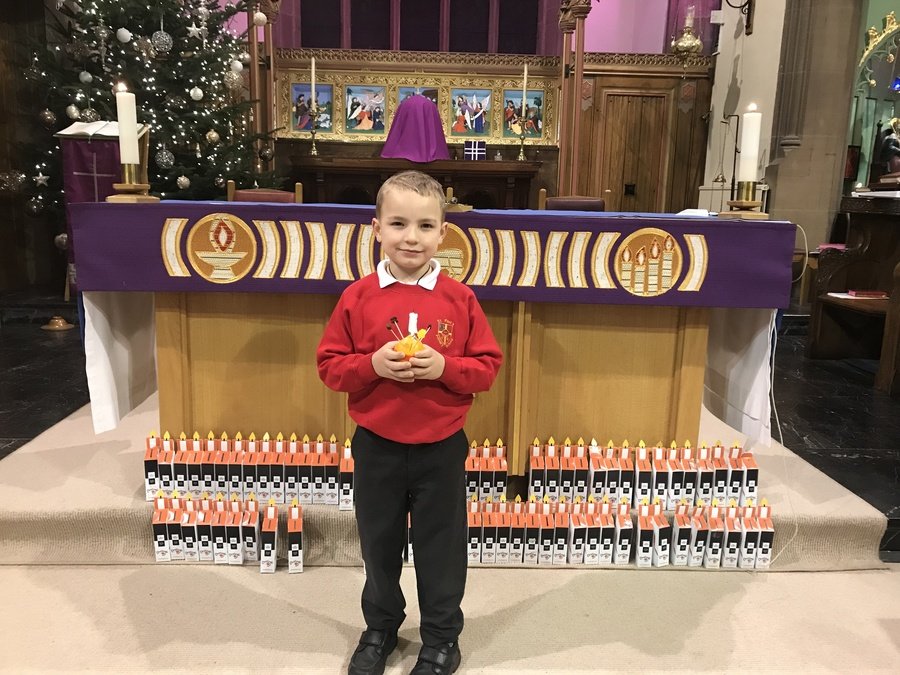 Singing carols in candlelight - a memorable experience for everyone - truly magical and enlightening!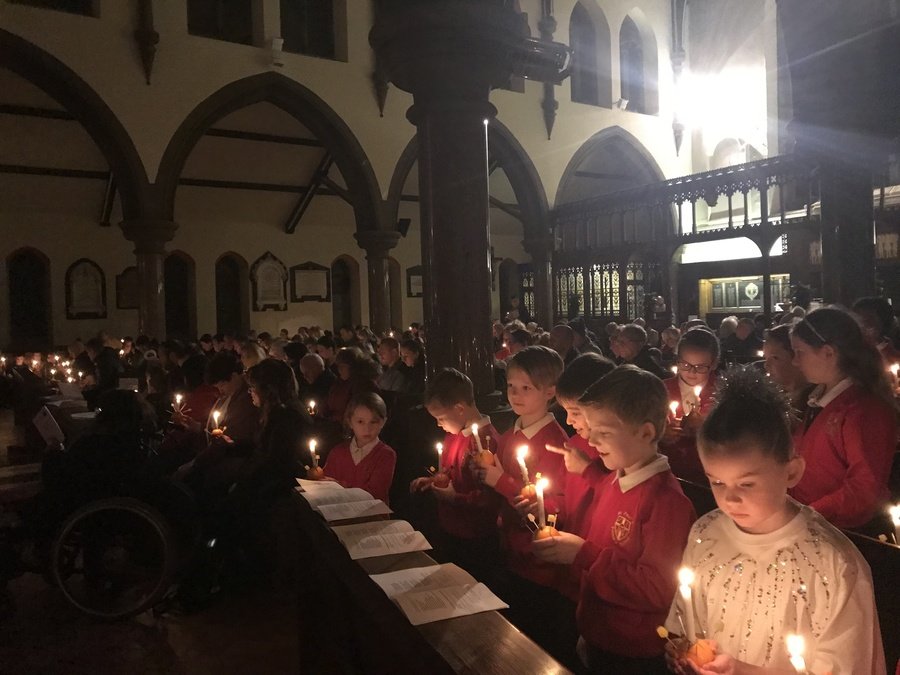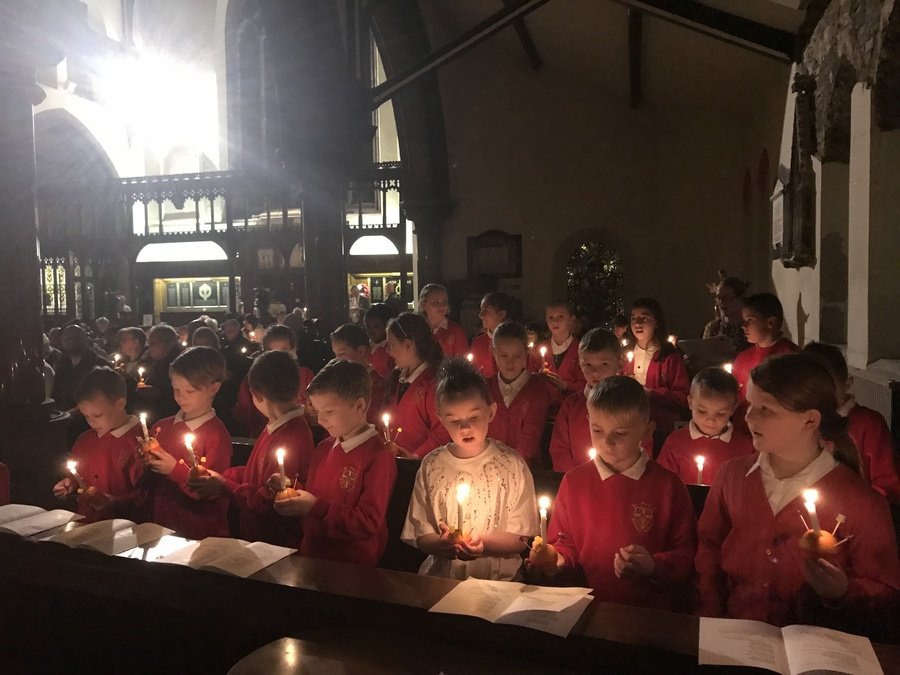 The School Choir Singing at the Royton Christmas Lights switch on event 2018.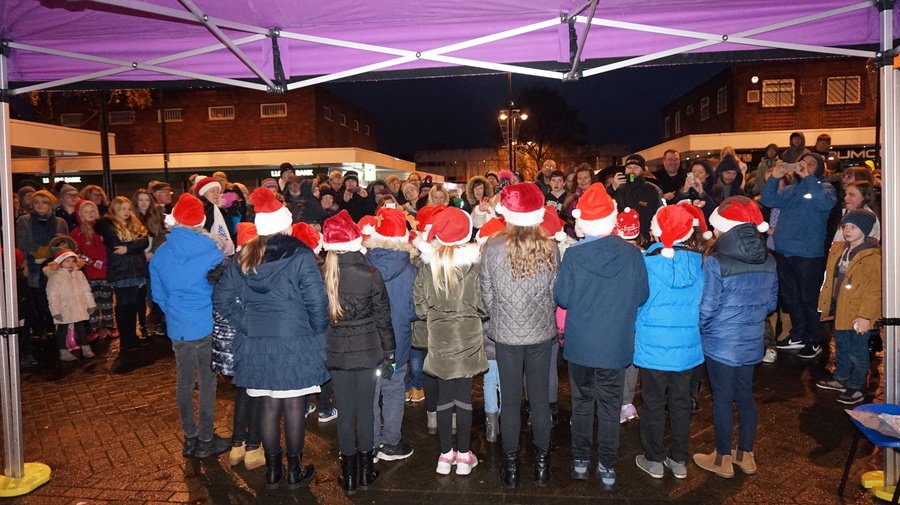 Children in Need 2018
The whole school from Nursery through to Year 6 helped to raise money today as we dressed in our pyjamas and held a non-stop obstacle course that continued from 9.10am until 3.10pm including break and lunch times. It was heart warming to see how much the children demonstrated the values we have taught the them: patience, caring, love, kindness, respect and many more as they supported each other to keep the course going. A great Thanks also went out to the parents who helped us with the fundraising.
Remembrance Day
To celebrate 100 years since the end of World War One, the children were set a challenge to design their own poppy. Every unique poppy has been displayed and our efforts praised in a special assembly led by Fr. Nicholas and our Prayer Group.
Our school football team played on the pitch at half time during the Oldham Athletic v Cambridge match on Saturday. Here they are in action:
Visiting the Mayor
Following the opening of the Peace and Sensory Garden in November last year, Mayor of Oldham - Shadab Qumer - invited us to visit him at his Council Chambers in Oldham Civic Centre. Today the school councillors visited the new mayor of Oldham, Javid Iqbal. Mr Mayor took us to the council chambers where we were able to sit down and ask questions using the microphones before touring the offices to see where he works.
Leavers' Service at Manchester Cathedral
As mentioned in the Crux magazine, on June 15th 2018, Year 6 were invited to Manchester Cathedral to celebrate their lives at St. Paul's CE Primary School and wish them well for their next step into secondary education.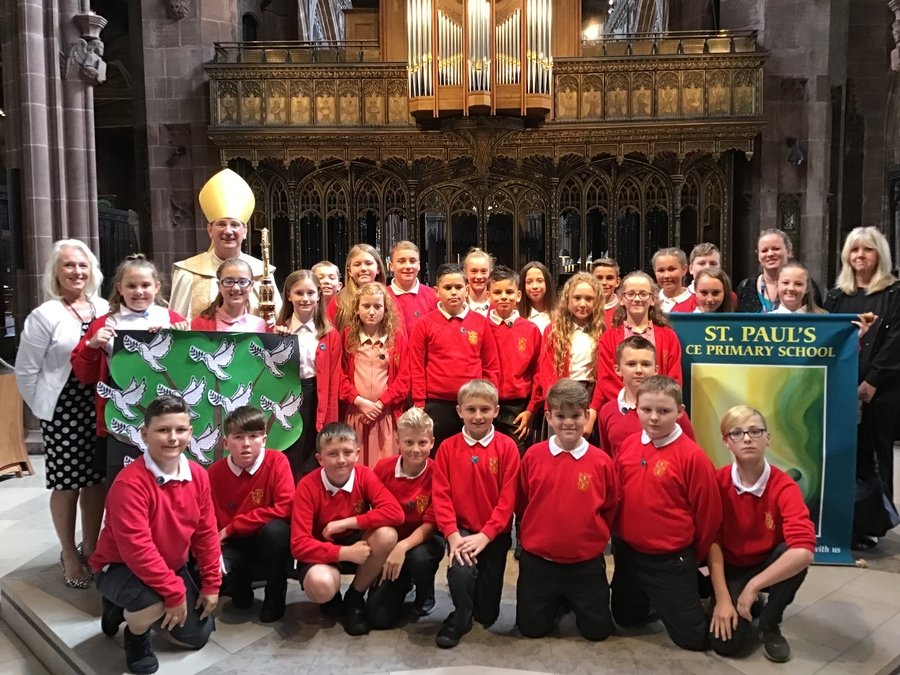 Head teacher for the day
This week, the pupils at St. Paul's Primary School have had the opportunity to prepare and give a speech to the rest of the school community of why they should be voted 'Head teacher for the day'. With some fantastic speeches, it was down to the children to fill in their voting slips and vote for a leader. The voting slips were counted and it was Alfie that was voted winner to become Head teacher with a close second place, Jacob, as Deputy head teacher.They will get the chance to fulfil their roles after half term - leading an assembly, answering phone calls and attending meetings etc. Well done to all the children that entered.
Parent Support Group Fundraising
Thank you to the Parent Support Group who have organised fundraising events to raise money for the school. They presented a cheque this morning in assembly for £1800. This will be going towards developing the outside environment and the 'walk-the-mile' initiative around the school grounds.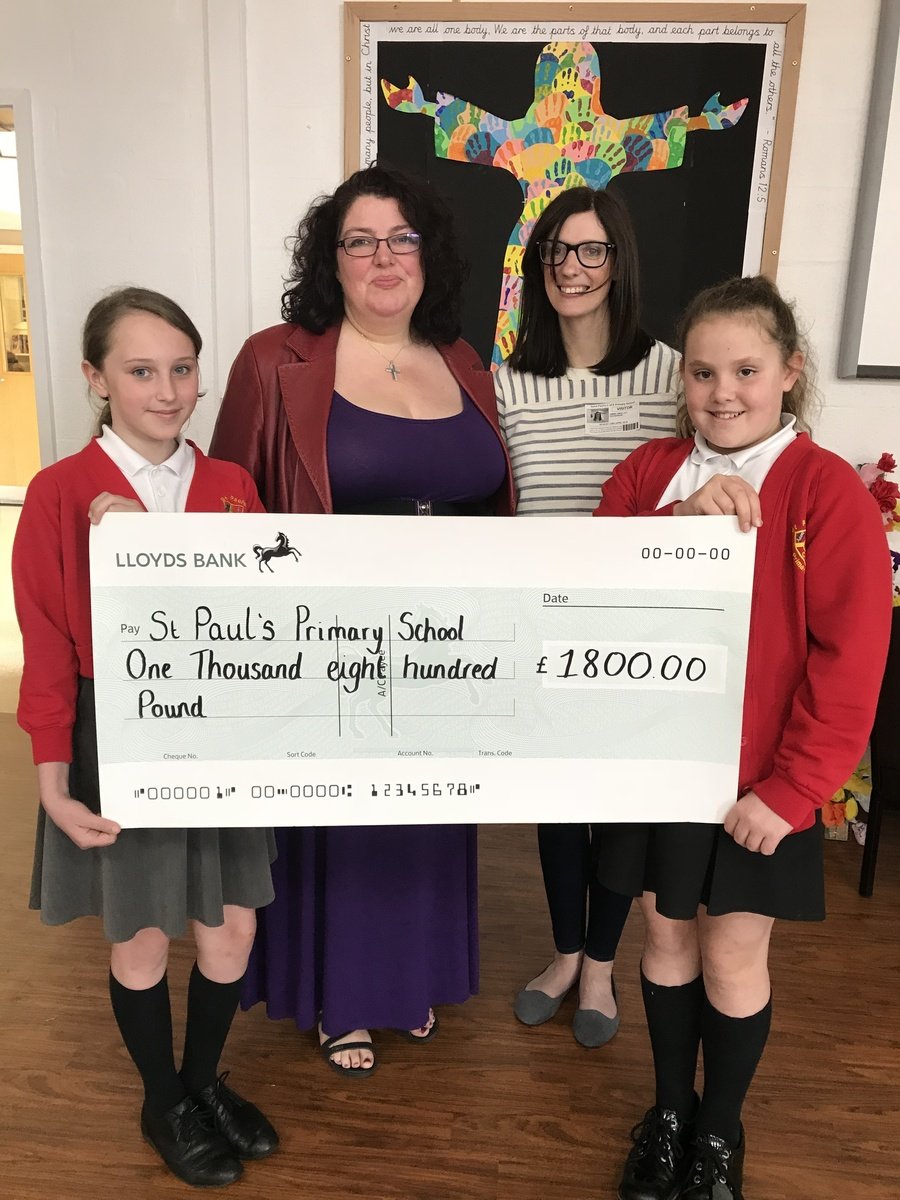 Easter Celebrations
This year we celebrated the Easter story at St. Paul's Church. It was a fantastic performance by the Year 6 pupils and the choir.
Decorated Egg Competition
What egg-cellent entries we had this year! So many egg-citing designs to choose from.
Thank you to all the pupils and families that entered. Look at the photographs to see the winning entries.
A Peace Ceremony to celebrate the 6th Anniversary of our Pledge to Peace
On Tuesday 28th November we held a Peace Ceremony to open our Peace and Sensory Garden. This was a special event to mark the sixth anniversary of the launch of the Pledge to Peace at the European Parliament in Brussels. We were joined by the Mayor of Oldham, Cllr. Shadab Qumer, to celebrate this special day as we were the first school to sign the pledge.
Open Sessions
Please contact the school office to book your tour
0161 624 9019